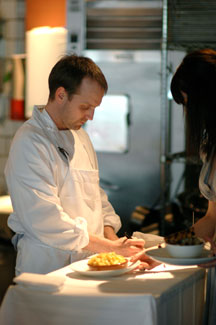 The hardest phone call clarklewis' Senior Executive Chef Dolan Lane ever had to make was to his father – to say that his love of food was greater than his love of photography: he wanted to leave university. Fortunately dad was supportive, and Lane's culinary career, simmering since his first job in a mom n' pop pizza restaurant, kicked into high gear.
Lane graduated from San Francisco's California Culinary Academy but gives greatest credit for the chef he's become to a series of generous mentors, including Walter Pisano of Seattle's Tulio Ristorante; Marsha Polk-Townsend in San Francisco and most recently Kenny Giambalvo at Bluehour in Portland. "People have always been good to me, have shown me a little more in each position I've taken, from making fresh mozzarella with Walter to learning French techniques from Kenny. I learned cooking, but I also learned hospitality and warmth for guests. You're inviting them into your home for a meal."
Lane came to Portland to work at Pazzo under Giambalvo, whom he later followed to Bluehour, where he worked until taking the helm at clarklewis.